Studio Robert Wu
---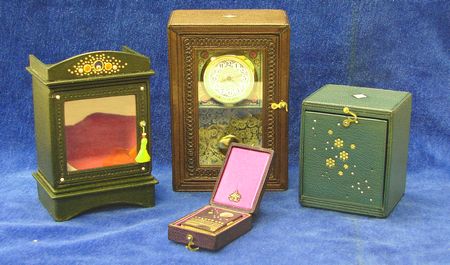 Robert Wu is a noted bookbinder, gilder, and marbler working in Toronto, Canada. We have recently acquired a number of his exquisite Little Gem Press miniature books in fine bindings and other accessories.
Note: Each listing below has a Lorson Number (LN#); please include
the object name and this number when inquiring or ordering.

BOOKS

---

Art of Practicing Cello, The; Wu, Robert
2002, 1" x 1 1/2", full red goatskin with gilt tooling, all edges gilt, in a matching box with silk lining, copy 3 of 36
LN
#1
$500.00

---

Art of Practicing Cello, The; Wu, Robert
2002, 1" x 1 1/2", full jade green goatskin with gilt tooling, all edges gilt, in a matching box with silk lining, copy 58 of 300
LN
#2
$500.00

---

Art of Practicing Cello, The; Wu, Robert
2002, 1" x 1 1/2", full brown calf with blind tooling, all edges gilt, hand-colored frontis, in a matching box with silk lining, copy 15 of 150
LN
#3
SOLD

---

Poems & Drawings; Wu, Robert
2004, 7/8" x 1 1/4", full purple goatskin with gilt tooling and abalone onlay, all edges gilt, hand-colored frontis, in a matching box with silk lining, copy 1 of 10
LN
#4
SOLD

---


ACCESSORIES

---

Curio Box
1 3/8" x 1" x 1/2", full red goatskin with blind and gilt tooling, two miniature brass bookmarks with tassles, a miniature brass framed magnifying glass, and a carved elephant sculpture
LN
#5
$350.00

---

Bookshelf
1 3/4" x 2 5/8" x 1 1/8", full red goatskin with blind tooling and onlays
LN
#6
SOLD

---

Chest of Drawers
1 1/4" x 2 5/8" x 2", full turquoise chagrin with blind and gilt tooling and onlays, leather-lined interior with three drawers
LN
#6
$800.00

---

Cabinet
2 1/8" x 2 1/4" x 1 1/2", full green chagrin with blind and gilt tooling and onlays, velvet-lined interior
LN
#7
SOLD

---

Cased Clock
3" x 4 1/2" x 1 3/4", full brown chagrin, brass battery-driven pendulum clock
LN
#8
$700.00

---

Bookcase
6" x 6 5/8" x 2", custom made in oak by Frank Preene
LN
#9
$300.00

---

Magnifying Glass
1 1/4" x 5/8", solid brass frame and glass lens in a velvet pouch made by Eugene Federenko, 1 of 10
LN
#10
$225.00